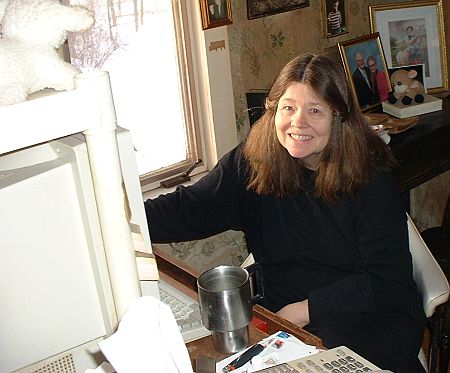 Niki's Sheep Image Collection
Every morning at dawn, Niki hunted the Internet for sheep images over coffee. She looked forward to this special quiet time — it relaxed her and gave us both a chance to wake up before tackling barn chores. Click here to view the collection.

Niki was very selective and only included interesting images. She was like a child at her computer with her sheep pictures. Sometimes while viewing pictures she'd start giggling (as only she could) and I'd walk over and put my arm around her so I could see the image she was viewing; she'd point to it and say "Oh, it has such neat ears!" or "Isn't that just darling!" and beam like a ray of sun. It made my heart sing to see her derive pleasure from such little things. I was always glad to help her save a photo.

Niki collected images from old photos, postcards, artwork, and every other possible venue, as well as images relating to handspinning, knitting, crocheting, yarn, dyes, etc. Over a period of years Niki amassed a collection of nearly 6,000 images. The images below are just a few samples from her collection. When you view the collection, you can browse, search, or just display each image in sequence. However you do it, it's a unique visual treat and a lot of fun.

Note: The caption given for each image is Niki's shorthand, which she used to name her image files. Over time I hope to expand and develop the descriptions, but for now these short titles will suffice. In addition, If you see an image belonging to you and you don't want it here, of course we'll gladly remove it. However, I do hope you'll allow it to remain so everyone can share in the wonderful visual experience Niki created for us, sprung from the sheer joy of treasuring all things beautiful.